10 Gram PAMP Swiss Gold Bullion Bar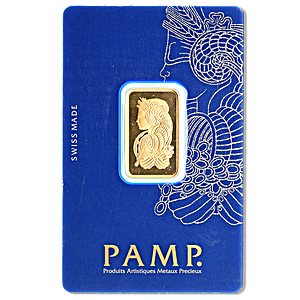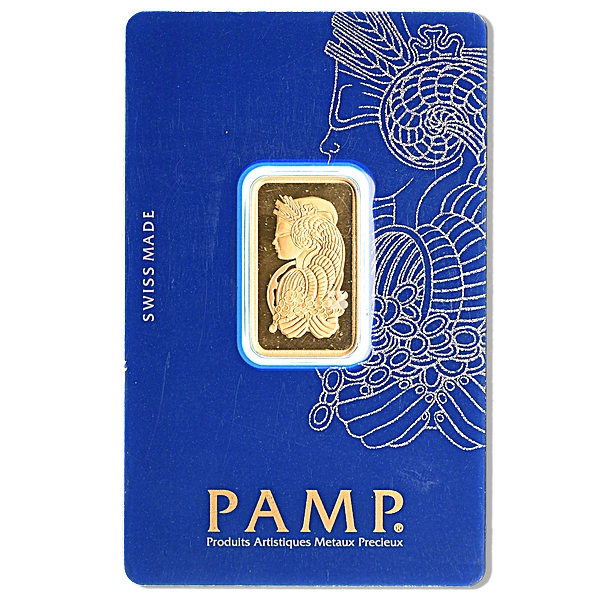 Roll over image to zoom in
10 Gram PAMP Swiss Gold Bullion Bar
Limited Time Offer
Regular Price
IN STOCK: 47 bars
Great Premium:
This beautiful 10 gram Swiss gold bullion bar is approximately 1/3 the size of common 1 oz gold bars and coins.
Product Highlights
Country: Switzerland
Manufacturer: PAMP
Size: 25.5 mm x 15.5 mm x 1.38 mm
Purity: .9999
Weight: 10 gram (0.322 troy oz)
Product Information:
If you don't have any PAMP gold bullion bars in your collection, you should probably take care of that — pronto.
PAMP is a Swiss precious metals refiner that is world renowned for its high quality, aesthetically pleasing line of 99.99% pure gold bullion bars that range in size from 1 gram to 10 oz.
PAMP is an acronym for "Produits Artistiques Métaux Précieux" in French, which translates to "Artistic Precious Metals Products" in English.
These 10 gram PAMP gold bars are roughly 1/3 the size of common 1 oz gold bars and coins, which makes them particularly practical when gold prices are high.
Smaller bars are useful for steadily growing a gold portfolio over time or adding some smaller bullion pieces to a portfolio that mostly consists of larger bullion pieces.
The front of this 10 gram gold bar depicts the Roman goddess of good fortune and luck, Lady Fortuna, holding out her hands in front of a horn of plenty that is overflowing with gold coins.
The back of this gold bar is stamped with PAMP's logo, the bar's weight and gold purity, and "Essayeur Fondeur" — the official Swiss stamp of authenticity.
Every 10 gram PAMP gold bar is packaged in a tamper-proof blister pack that also has the bar's unique 7-digit serial number printed on it.
You will appreciate having these sleek 10 gram PAMP gold bullion bars in your collection!
Contact Us Regarding This Product
Customers who viewed this item also bought