10 oz PAMP Swiss Gold Bullion Bar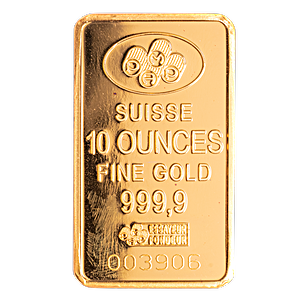 Roll over image to zoom in
10 oz PAMP Swiss Gold Bullion Bar
Limited Time Offer
Regular Price
IN STOCK: 3 bars
Great Premium:
Simply holding these hefty Swiss gold bullion bars will put an instant smile on your face.
Product Highlights
Country: Switzerland
Manufacturer: PAMP
Size: 60 mm x 35 mm x 8.05 mm
Purity: .9999
Weight: 10 troy oz (311 gram)
Product Information:
If you want to take your gold investing to the next level, these stunning 10 oz PAMP Swiss gold bullion bars are one of the best ways to do it.
This 99.99% pure gold bar is equivalent in weight to ten typical 1 oz gold bars or coins.
Larger gold bars, such as this one, have lower spreads and premiums over the spot price of gold, which means that you get more gold for your money.
As one of the world's most respected precious metals refiners, everything PAMP touches turns to gold — both literally and figuratively.
PAMP stands for "Produits Artistiques Métaux Précieux" — a French language slogan that means "Artistic Precious Metals Products" in English.
The front face of this bar depicts Lady Fortuna — the ancient Roman goddess of good fortune and luck — standing behind a cornucopia or horn of plenty that is spilling gold coins into her hands.
The back side of this bar is features PAMP's logo, the bar's weight and gold purity, and "Essayeur Fondeur" — the official Swiss stamp of authenticity.
Having some 10 oz PAMP gold bars in your collection will definitely put you in the upper echelons of precious metals investors!
You will also get great enjoyment out of holding these chunky gold bullion bars in your hands and showing them to your family and friends.
Contact Us Regarding This Product
Customers who viewed this item also bought