20 Gram Argor-Heraeus Swiss Gold Bullion Bar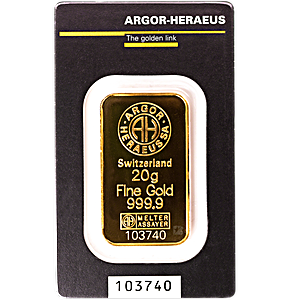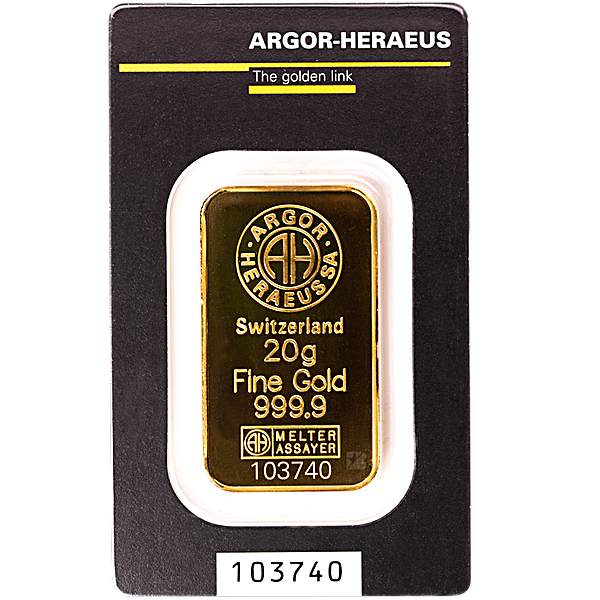 Roll over image to zoom in
20 Gram Argor-Heraeus Swiss Gold Bullion Bar
Limited Time Offer
Regular Price
IN STOCK: 2 bars
Great Premium:
This 99.99% pure gold bullion bar is an excellent way to add some Swiss gold to your bullion portfolio.
Product Highlights
Country: Switzerland
Manufacturer: Argor-Heraeus SA
Size: 40.4 mm x 23.3 mm x 1.3 mm
Purity: .9999
Weight: 20 gram (0.643 troy oz)
Product Information:
Switzerland is famous for producing some of the world's highest quality products: watches, chocolate, pocket knives, luxury goods, and also gold bullion.
Renowned Swiss precious metals refiner Argor-Heraeus follows the Swiss tradition for producing high quality, precision-made products with its handsome line of 99.99% pure gold bullion bars that are available in 1 gram, 5 gram, 10 gram, 20 gram, 50 gram, 100 gram, and 1 oz weights.
The 20 gram Argor-Heraeus gold bullion bar is approximately two-thirds the size of a typical 1 oz gold bar or coin, which is practical when gold prices are trading at high levels.
Every Argor-Heraeus gold bar is sealed in a protective blister pack that also doubles as an assay card.
These bars are stamped with Argor-Heraeus's logo, refiner stamp, the word "Switzerland," the bar's weight and gold content, and the bar's unique serial number.
These 20 gram Argor-Heraeus gold bullion bars will make a fine addition to your precious metals portfolio.
Contact Us Regarding This Product
Customers who viewed this item also bought