50 Gram Argor-Heraeus Swiss Gold Bullion Bar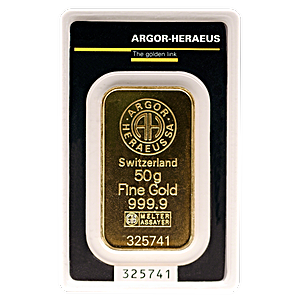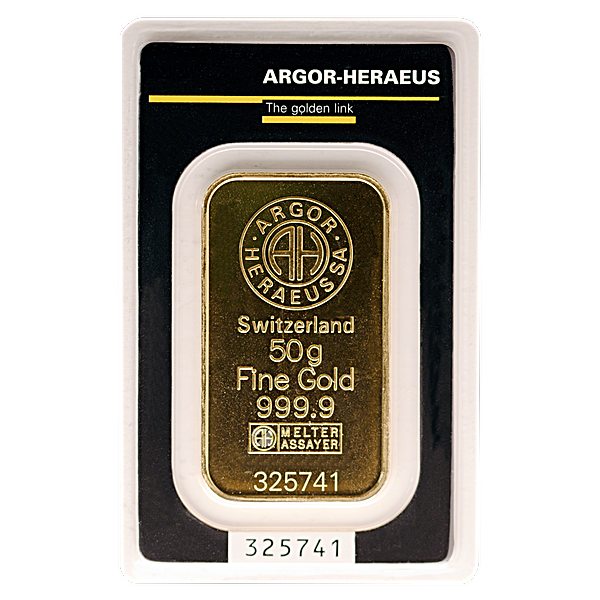 Roll over image to zoom in
50 Gram Argor-Heraeus Swiss Gold Bullion Bar
Limited Time Offer
Regular Price
IN STOCK: 1 bar
Great Premium:
These 99.99% pure gold bullion bars are one of the most economical ways to acquire gold.
Product Highlights
Country: Germany
Manufacturer: Argor-Heraeus SA
Size: 50 mm x 28.5 mm x 2.35 mm
Purity: .9999
Weight: 50 gram (1.608 troy oz)
Product Information:
If your goal is to acquire gold as economically as possible, then your best bet is to buy gold bullion bars that are larger than the typical 1 troy ounce gold coin or bar.
This 50 gram (1.608 troy ounce) Argor-Heraeus gold bar is made from 99.99% pure gold and has a low premium and spread, which means that you get more gold for your money.
Argor-Heraeus is a Swiss precious metals refiner that is well-known for its very high quality bullion products and is listed on the prestigious London Bullion Market Association's (LBMA) Good Delivery List for gold and silver.
Argor-Heraeus produces a line of gold bars in 1 gram, 5 gram, 10 gram, 20 gram, 50 gram, 100 gram, and 1 oz weights and each one serves a unique purpose.
Argor-Heraeus gold bars are sealed in protective blister packs that also serve as an assay card.
These 50 gram gold bars are stamped with Argor-Heraeus's logo, refiner stamp, the word "Switzerland," the bar's weight and gold content, and the bar's unique serial number.
Stock up on low cost, high quality gold with these beautiful 50 gram Swiss gold bullion bars!
Contact Us Regarding This Product
Customers who viewed this item also bought