Valcambi Gold Bar - 100 g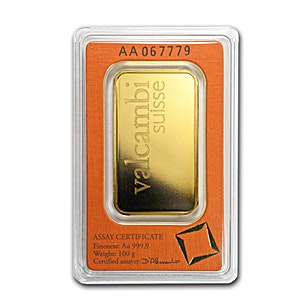 Roll over image to zoom in
Valcambi Gold Bar - 100 g
Limited Time Offer
Regular Price
IN STOCK: 20 bars
Great Premium:
This delightfully chunky 100 gram Swiss gold bar is more than 3x the size of a typical 1 oz gold bar or coin.
Product Highlights
Country: Switzerland
Manufacturer: Valcambi
Size: 27 mm x 47 mm x 4.50 mm
Purity: .9999
Weight: 100 gram (3.215 troy oz)
Product Information:
Some of the best gold products come from Switzerland and, in particular, from the renowned Swiss precious metals refiner Valcambi.
Valcambi is best known for its line of 99.99% pure gold bars that range in size from tiny 1 gram bars to hefty 10 oz bars and practically every size in between.
This 100 gram (3.215 troy oz) bar is one of the larger bullion bars produced by Valcambi and is roughly 3.2 times the size of common 1 oz gold bullion bars and coins.
Larger gold bullion bars allow you to purchase gold at lower cost due to their lower premiums and spreads as compared to smaller bullion products.
Each 100 gram Valcambi gold bar comes in a protective blister pack that also acts as the bar's assay certificate.
Get your hands on some of these gorgeous 100 gram Valcambi gold bars today!
Contact Us Regarding This Product
Customers who viewed this item also bought