50 Gram Valcambi Swiss Gold Bullion Bar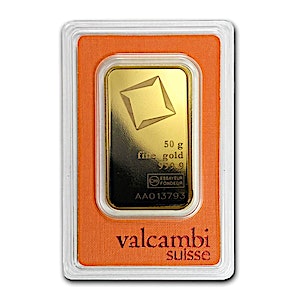 Roll over image to zoom in
50 Gram Valcambi Swiss Gold Bullion Bar
Limited Time Offer
Regular Price
IN STOCK: 23 bars
Great Premium:
This 50 gram (1.608 oz) gold bullion bar is larger than typical 1 oz gold bars or coins.
Product Highlights
Country: Switzerland
Manufacturer: Valcambi
Purity: .9999
Weight: 50 gram (1.608 troy oz)
Product Information:
If you're looking for a gold bullion piece that is a bit larger than the typical 1 oz gold bar or coin, then this 50 gram (1.608 oz) gold bar from famous Swiss refiner Valcambi may appeal to you.
Valcambi produces 99.99% pure gold bullion bars in a wide variety of sizes — from tiny 1 gram bars to chunky 10 oz bars.
Regardless of size, Valcambi gold bullion bars are highly sought after by precious metals investors due to the refiner's reputation for producing ultra-high quality products.
Each 50 gram Valcambi gold bar comes in a protective blister pack that also doubles as the bar's assay certificate.
Add some Valcambi gold bars to your portfolio today — they will likely become your favorite bullion pieces!
Contact Us Regarding This Product
Customers who viewed this item also bought