10 oz Valcambi Swiss Gold Bullion Bar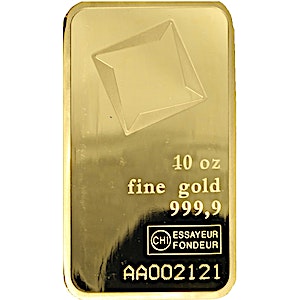 10 oz Valcambi Swiss Gold Bullion Bar
Limited Time Offer
Regular Price
IN STOCK: 4 bars
Great Premium:
These hefty 10 oz gold bullion bars are a great way to acquire gold inexpensively. They also feel wonderful to hold because of their sheer mass and density!
Product Highlights
Country: Switzerland
Manufacturer: Valcambi
Size: 60 mm x 35 mm x 9 mm
Purity: .9999
Weight: 10 troy oz (311 gram)
Product Information:
If your goal is to bulk up on gold bullion as economically as possible, we encourage you to consider this attractive 10 oz gold bullion bar from the renowned Swiss precious metals refiner Valcambi.
Valcambi is well respected in the precious metals industry due to its high quality products, particularly its line of 99.99% pure gold bullion bars that range in size from 1 gram to 10 oz.
This 10 oz gold bar is one of Valcambi's largest gold bars and allows you to acquire gold inexpensively because of its low premiums and spreads as compared to smaller bullion products.
Every 10 oz Valcambi gold bullion bar is individually numbered and comes with an assay card.
Bulk up on Swiss gold today with this solid 10 oz Valcambi gold bar; the way it feels in the hands is indescribable!
Contact Us Regarding This Product
Customers who viewed this item also bought