2.5 Gram Valcambi Swiss Gold Bullion Bar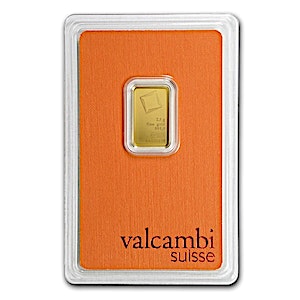 Roll over image to zoom in
2.5 Gram Valcambi Swiss Gold Bullion Bar
Limited Time Offer
Regular Price
IN STOCK: 50 bars
Great Premium:
These 2.5 gram gold bullion bars are great for rounding out a collection of larger precious metals bars and coins.
Product Highlights
Country: Switzerland
Manufacturer: Valcambi
Size: 19.1 mm x 11.5 mm x 0.7 mm
Purity: .9999
Weight: 2.5 gram (0.08 troy oz)
Product Information:
Gold bullion comes in all different sizes and form factors — from tiny 1 gram bars, to 1 oz coins, to massive 400 oz London Good Delivery bars.
If your goal is to have a well-rounded precious metals portfolio, you should consider including some smaller gold bullion bars such as this attractive 2.5 gram 99.99% pure gold bar from Swiss precious metals refiner Valcambi.
This 2.5 gram bullion bar is one of the smaller physical gold bullion pieces on the market and its small size makes it beneficial for building a precious metals portfolio a little bit at a time, giving as gifts, and adding some size diversification to portfolios that mostly have larger bullion pieces in it.
Valcambi is one of the most respected precious metals refiners in Switzerland.
Every Valcambi gold bullion bar is sealed in a protective blister pack that also doubles as the bar's assay certificate.
These Valcambi 2.5 gram bullion bars are excellent for first-time gold buyers as well as experienced gold investors who don't yet have smaller gold bullion bars in their portfolio.
Contact Us Regarding This Product
Customers who viewed this item also bought