5 Gram Valcambi Swiss Gold Bullion Bar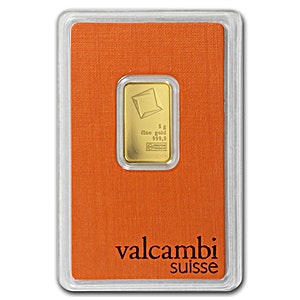 5 Gram Valcambi Swiss Gold Bullion Bar
Limited Time Offer
Regular Price
IN STOCK: 49 bars
Great Premium:
When gold prices rise, smaller gold bullion bars such as this Valcambi 5 gram bar become increasingly popular with investors.
Product Highlights
Country: Switzerland
Manufacturer: Valcambi Suisse
Size: 23.05 mm x 13.85 mm x 1 mm
Purity: .9999
Weight: 5 gram (0.161 troy oz)
Product Information:
If you're interested in buying gold but don't have deep pockets, Swiss precious metals refiner Valcambi has got you covered.
From tiny 1 gram gold bullion bars to 10 oz gold bars and many sizes in between, Valcambi makes gold investing accessible to practically everyone.
Valcambi's handsome 5 gram 99.99% pure gold bullion bars are a great way to start building your precious metals portfolio or to round out a portfolio of larger gold bars and coins.
Valcambi has earned a stellar reputation for producing some of the highest quality gold bullion products on the market.
Each 5 gram Valcambi gold bullion bar comes sealed in a protective blister pack that also acts as the bar's assay certificate.
You won't regret having some of these beautiful Valcambi gold bullion bars in your collection!
Contact Us Regarding This Product
Customers who viewed this item also bought