100 Gram PAMP Swiss Cast Gold Bullion Bar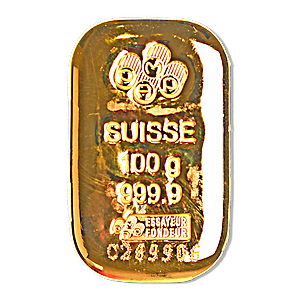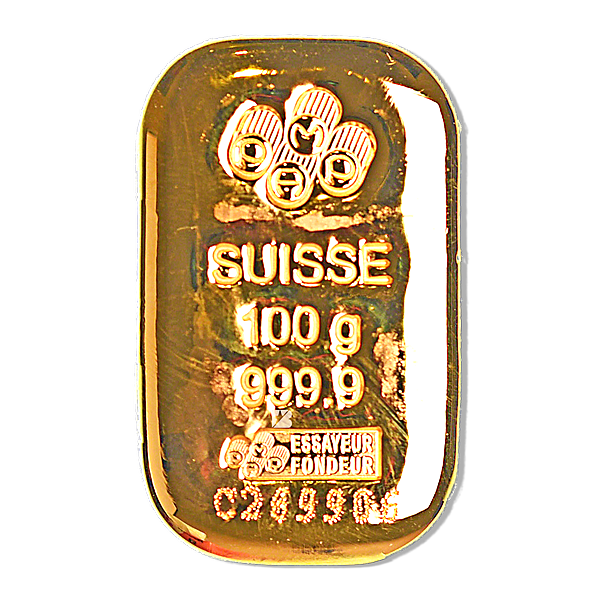 Roll over image to zoom in
100 Gram PAMP Swiss Cast Gold Bullion Bar
Limited Time Offer
Regular Price
IN STOCK: 24 bars
Great Premium:
This 99.99% pure Swiss gold bullion bar has retro good looks and low premiums.
Product Highlights
Country: Switzerland
Manufacturer: PAMP
Size: 44 mm x 27 mm x 5 mm
Purity: .9999
Weight: 100 gram (3.215 troy oz)
Product Information:
If your goal is to accumulate the highest quality gold at the lowest prices, these 100 gram cast gold bullion bars from the respected Swiss refiner PAMP are an excellent bet.
This 99.99% pure gold bar is approximately 3.2 times the size of a typical 1 oz gold bar or coin.
Larger gold bars, including this 100 gram bar, typically have lower spreads and premiums over the spot price of gold, which means that you get more gold for your money.
PAMP is an internationally renowned precious metals refiner that produces a popular line of 99.99% pure gold bullion bars that range in size from 1 gram to 10 oz.
PAMP is an acronym for the French language slogan, "Produits Artistiques Métaux Précieux," which means "Artistic Precious Metals Products" in English.
The front face of this bar features PAMP's logo, the bar's weight and gold purity, "Essayeur Fondeur" — the official Swiss stamp of authenticity, and the bar's 7-digit serial number.
These great-looking 100 gram gold bullion bars will make stacking gold even more enjoyable!
Contact Us Regarding This Product
Customers who viewed this item also bought