PAMP Gold Cast Bar - 50 g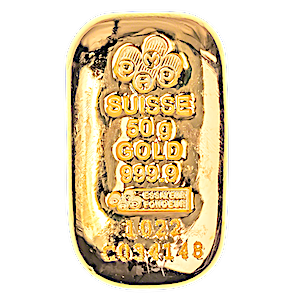 Roll over image to zoom in
PAMP Gold Cast Bar - 50 g
Limited Time Offer
Regular Price
IN STOCK: 20 bars
Great Premium:
These PAMP 50 gram cast gold bars have an old-fashioned charm to them.
Product Highlights
Country: Switzerland
Manufacturer: PAMP
Size: 33 mm x 19 mm x 5 mm
Purity: .9999
Weight: 50 gram (1.608 troy oz)
Product Information:
If you're looking for a unique gold bullion bar, you should definitely check out PAMP's 50 gram cast gold bar.
This 50 gram (1.608 troy oz) bar is a bit larger than the typical 1 oz gold bar or coin.
PAMP is a highly respected Swiss precious metals refiner that is known for its line of 99.99% pure gold bars that range in size from 1 gram to 10 oz.
PAMP is an acronym for "Produits Artistiques Métaux Précieux" in French, which means "Artistic Precious Metals Products" in English.
The front face of this bar is stamped with PAMP's logo, the bar's weight and gold purity, "Essayeur Fondeur" — the official Swiss stamp of authenticity, and the bar's unique serial number.
One thing is for certain — you will not regret having these gleaming PAMP gold bars in your collection!
Contact Us Regarding This Product
Customers who viewed this item also bought