1 Kilogram Royal Canadian Mint Gold Bullion Bar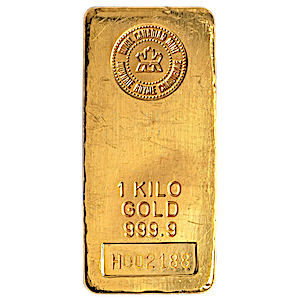 Roll over image to zoom in
1 Kilogram Royal Canadian Mint Gold Bullion Bar
Limited Time Offer
Regular Price
IN STOCK: 22 bars
Great Premium:
With its ultra-low premium and spread, this 1 kilogram Royal Canadian Mint gold bullion bar is an excellent way to buy physical gold in bulk at a rock bottom price. It makes for a great conversation piece, too!
Product Highlights
Country: Canada
Manufacturer: Royal Canadian Mint
Purity: .9999
Weight: 1 kg (32.151 troy oz)
Product Information:
This 99.99% pure 1 kilogram gold bullion bar is manufactured by the Royal Canadian Mint, which has been minting precious metals since 1908 and is highly respected in the precious metals arena.
The 1 kilogram Royal Canadian Mint gold bar has a very low premium and spread, which makes it one of the most economical ways to purchase physical gold.
In other words, you get more gold for your money with this bar.
Each bar has a unique serial number for authentication purposes.
In addition to being a great investment, this gold bar makes for a fascinating conversation piece to show your friends, family, or coworkers.
Imagine passing around such a beautiful and heavy gold bullion bar?
It's certainly not something most people see every day!
Contact Us Regarding This Product
Customers who viewed this item also bought