1 Kilogram BullionStar No-Spread Silver Bullion Bar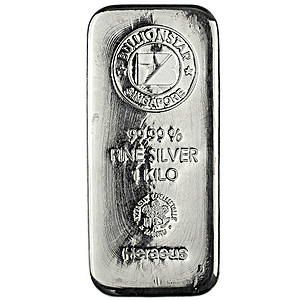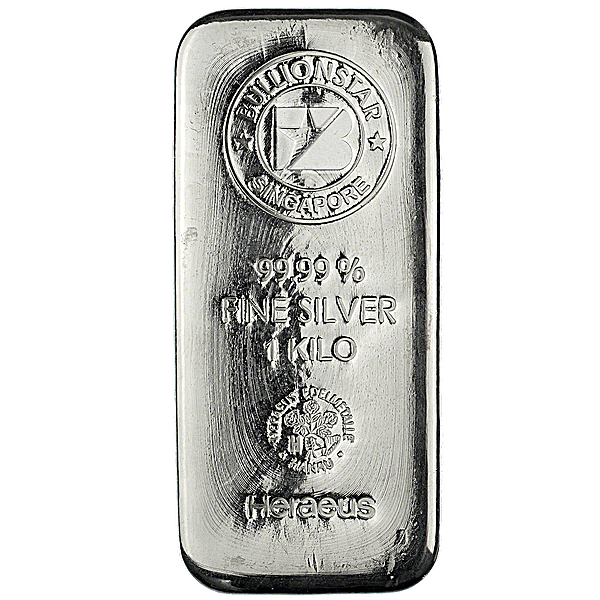 Roll over image to zoom in
1 Kilogram BullionStar No-Spread Silver Bullion Bar
Limited Time Offer
Regular Price
IN STOCK: 1,992 bars
Great Premium:
These attractive BullionStar-branded silver bullion bars help you get the most silver for your money because they don't have a spread between the buy and sell price.
Product Highlights
Country: Germany
Manufacturer: Heraeus
Size: 108 mm x 50 mm x 20 mm
Purity: .9999
Weight: 1 kg (32.151 troy oz)
Product Information:
If you'd like to buy physical silver and not pay any spread, you will love our 1 kilogram no-spread silver bullion bars that allow you to buy 100 bars or more and sell them back to us for the same price (not including silver price fluctuations, of course). If you purchase fewer than 100 bars, there is a small spread.
These high-quality 1 kilogram 99.99% pure silver bars are produced exclusively for BullionStar by the world-renowned LBMA-approved German precious metals refiner Heraeus.
Each silver bar is polished to a high luster and is stamped with the bar's weight, silver fineness, and Heraeus's brand logo.
To take advantage of this bar's no-spread opportunity, there is a minimum holding period of seven days.
Bulk up your precious metals portfolio today with these beautiful no-spread BullionStar silver bullion bars!
Click here to also check out our 100 gram no-spread gold bullion bars.
Contact Us Regarding This Product
Customers who viewed this item also bought