100 Gram BullionStar No-Spread Gold Bullion Bar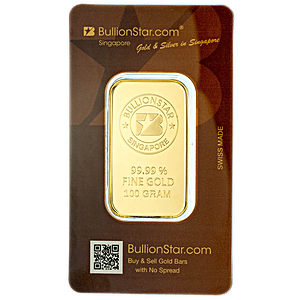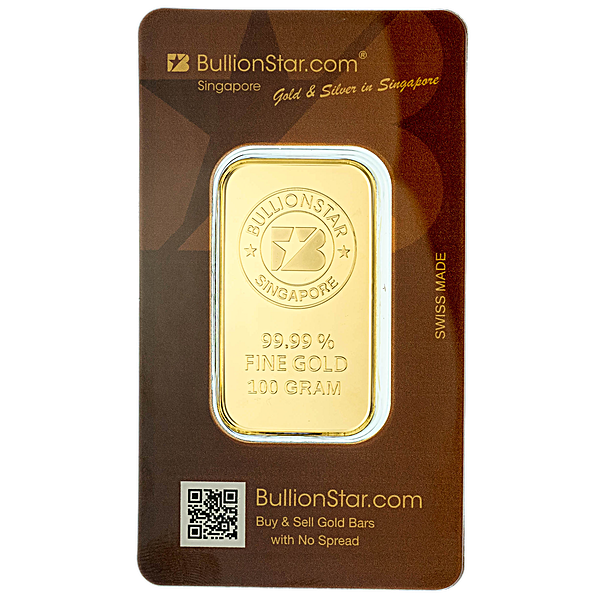 Roll over image to zoom in
100 Gram BullionStar No-Spread Gold Bullion Bar
Limited Time Offer
Regular Price
IN STOCK: 177 bars
Great Premium:
With no spread between the buy & sell price, this stunning bullion bar is the most economical way to buy gold!
Product Highlights
Country: Switzerland
Manufacturer: Argor-Heraeus
Size: 44 mm x 26 mm x 4.5 mm
Purity: .9999
Weight: 100 gram (3.215 troy oz)
Product Information:
If you're looking for the most cost-effective way to invest in physical gold, look no further than BullionStar's 100 Gram No-Spread Gold Bullion Bars!
While virtually all bullion products have a "spread" or a difference between the price that you can buy the product versus the price that you can sell it, these gold bars are unique because they don't have a spread.
You can buy our 100 Gram No-Spread Gold Bullion Bars and sell them soon after without losing one cent (aside from market fluctuations, of course).
Our 100 Gram No-Spread Gold Bullion Bars were specially designed for BullionStar by the renowned Swiss gold refiner Argor-Heraeus.
These attractive-looking bars are made from 99.99% pure gold and feature the text "Money since 4000 B.C." to match BullionStar's philosophical belief that gold is money.
Each BullionStar 100 Gram No-Spread Gold Bullion Bar comes encapsulated in a Certicard blister pack to prevent tampering.
Every Certicard features the signature of the refinery's certified assayer as well as a unique QR code to help verify the authenticity of the gold bar.
In order for the no-spread deal to apply, 10 or more of these bullion bars must be purchased and the bars must be owned for at least 7 days.
Contact Us Regarding This Product
Customers who viewed this item also bought