Argor-Heraeus Gold Bar - 5 g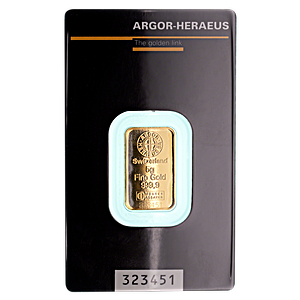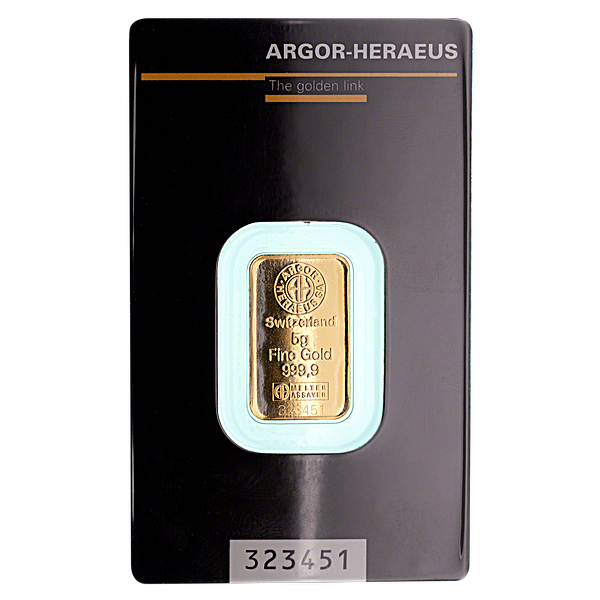 Roll over image to zoom in
Argor-Heraeus Gold Bar - 5 g
Limited Time Offer
Regular Price
OUT OF STOCK
Great Premium:
This 99.99% pure gold bar from renowned Swiss refiner Argor-Heraeus comes in the convenient 5 gram weight, which is excellent for building savings in gold.
Product Highlights
Country: Switzerland
Manufacturer: Argor-Heraeus SA
Size: 23.0 mm x 14.0 mm x 1.0 mm
Purity: .9999
Weight: 5 gram (0.161 troy oz)
Product Information:
It's a good idea to have precious metals bullion in different weights — each one serves a unique purpose.
If that approach resonates with you, then Swiss gold refiner Argor-Heraeus's line of 99.99% pure gold bullion bars will be right up your alley.
Argor-Heraeus produces gold bars in 1 gram, 5 gram, 10 gram, 20 gram, 50 gram, 100 gram, and 1 oz weights.
Argor-Heraeus has built a sterling reputation for producing some of the highest quality precious metals products, including this 5 gram gold bar.
Each gold bar is sealed in a transparent blister pack that also serves as an assay card.
In addition, each bar is stamped with Argor-Heraeus's logo, refiner stamp, the word "Switzerland," the bar's weight and gold content, and the bar's unique serial number.
If you don't have any smaller gold bars, you can't go wrong with this 5 gram bar from Argor-Heraeus!
Contact Us Regarding This Product
Customers who viewed this item also bought