BullionStar Financials FY 2021 – Year in Review
This post reviews BullionStar's financial performance and milestones for the financial year ending 30 June 2021 (FY 2021).
At BullionStar, we have a long-standing tradition of sharing our financials transparently. We share key sales and revenue data, including sales percentage per precious metal, sales percentage per product category (bars and coins), and the share of revenue presented by the most popular products within those categories.
The review also looks at gold and silver price movements over the fiscal year, and highlights other notable developments during that time. Previous years financial reviews can be found below:
BullionStar Financials FY 2020 – Year in Review
BullionStar Financials FY 2019 – Year in Review
BullionStar Financials FY 2018 – Year in Review
BullionStar Financials FY 2017 – Year in Review
BullionStar Financials FY 2016 – Year in Review
BullionStar Financials FY 2015 – Year in Review
FY 2021 was another very strong year for BullionStar with sales revenues totaling SGD 448.1 M, a 37.4% increase over FY 2020.
While the spot price of gold in US dollars ebbed and flowed during FY 2021 and finished the fiscal year near where it started, there were still substantial gold price movements during the year (July 2020 – June 2021), and these price movements generated significant investor activity. FY2021 also saw gold record an all-time time of $2060, during August 2020.
FY 2021 was also notable for silver demand, on the back of the silver price rocketing to a seven year high in July 2021, as well as significant investor interest promoted by the Silver Squeeze phenomenon which began in the January – February 2021 period.
With the Covid-19 crisis still ongoing throughout FY 2021 and with the debt-fueled monetary system becoming more unstable, investors increasingly turned to physical precious metals as safe haven assets and as financial protection, and in so doing boosted gold and silver demand and their prices. For example, both gold and silver had stellar returns in calendar 2020, with the gold price in USD  rising 25.12% and the USD silver price rising a massive 47.82%.
In the wider market, there was huge retail investment precious metals demand during FY 2021, with the world's major mints, such as the US Mint recording very strong sales over both calendar 2020 and 2021. This trend was not just retail, as there was notable and sizeable gold buying by central banks such as the central banks of Hungary, Thailand, Brazil, and India.
As a Singapore headquartered bullion dealer, we were also impressed to see that Singapore's central bank, MAS, also added 26.35 tonnes to its gold reserves over May and June 2021, its first gold buying activity since at least 2000.
Gold Price and Silver Price during FY 2021
The spot gold price, denominated in Singapore dollars, declined slightly from SGD 2473.1 on 1 July 2020 to SGD 2375.28 on 30 June 2021. This marks a  3.96% decrease in the SGD spot gold price during FY 2021.
Within the period, the SGD gold price first saw a rise to a high in early August 2020 of SGD 2,829.1, followed by a declining trend until early March 2021, which then turned into a recovery trend from March – June 2021.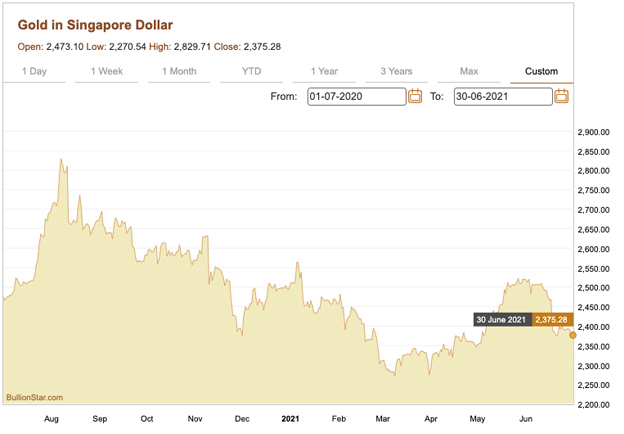 In contrast to gold, the spot silver price, denominated in Singapore dollars, rose sharply from SGD 25.01 on 1 July 2020 to SGD 34.94 on 30 June 2021. This marks a 39.7% increase in the SGD silver price during FY 2021.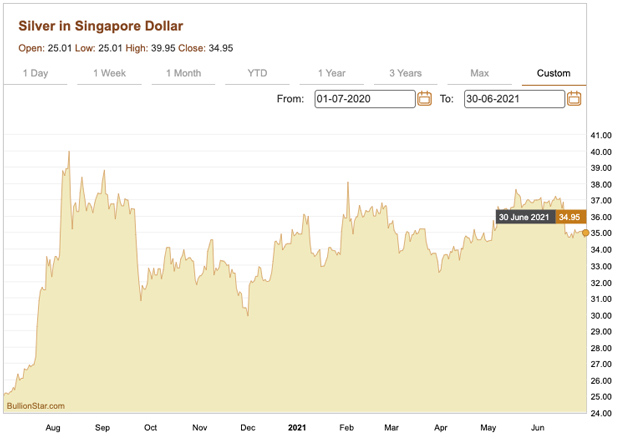 Much of these gains came in July 2020 when the silver price surged to a 7 year high on the back of a higher gold price, strong investment demand and US dollar weakness. There was significant volatility in the SGD silver price for the rest of the fiscal year, but the price trend was upwards with higher lows from December 2020 until June 2021.
BullionStar Financials FY 2021 – Year in Review – Sales
BullionStar's sales revenues reached a record SGD 448.1 M in FY2021, which was a 37.4% increase compared to FY 2020.
Sales per Product Category
In FY2021, gold represented 64.37% of sales, and silver represented 33.11% of sales, with the remaining 2.52% comprising mostly platinum.
There was thus a noticeable increase in the proportion of sales attributed to silver during FY2021. (In FY2020, gold represented 73.56% of sales and silver represented 23.88%).
Within the gold category, 80.65% represented gold bars, 14.19% represented gold coins, with the remainder attributed to the Bullion Savings Program (BSP), numismatics and gold jewellery, together comprising 5.16%.
Within the gold bar category, nearly 86% comprised the larger investment gold bars, with 41.66% representing 1kg gold bars, and 44.13% representing 100g gold bars. Within gold coins, the lead seller was
Canadian Gold Maples
(39.40% of gold coin sales), followed by
Australian Gold Kangaroos
(19.35% of gold coin sales.)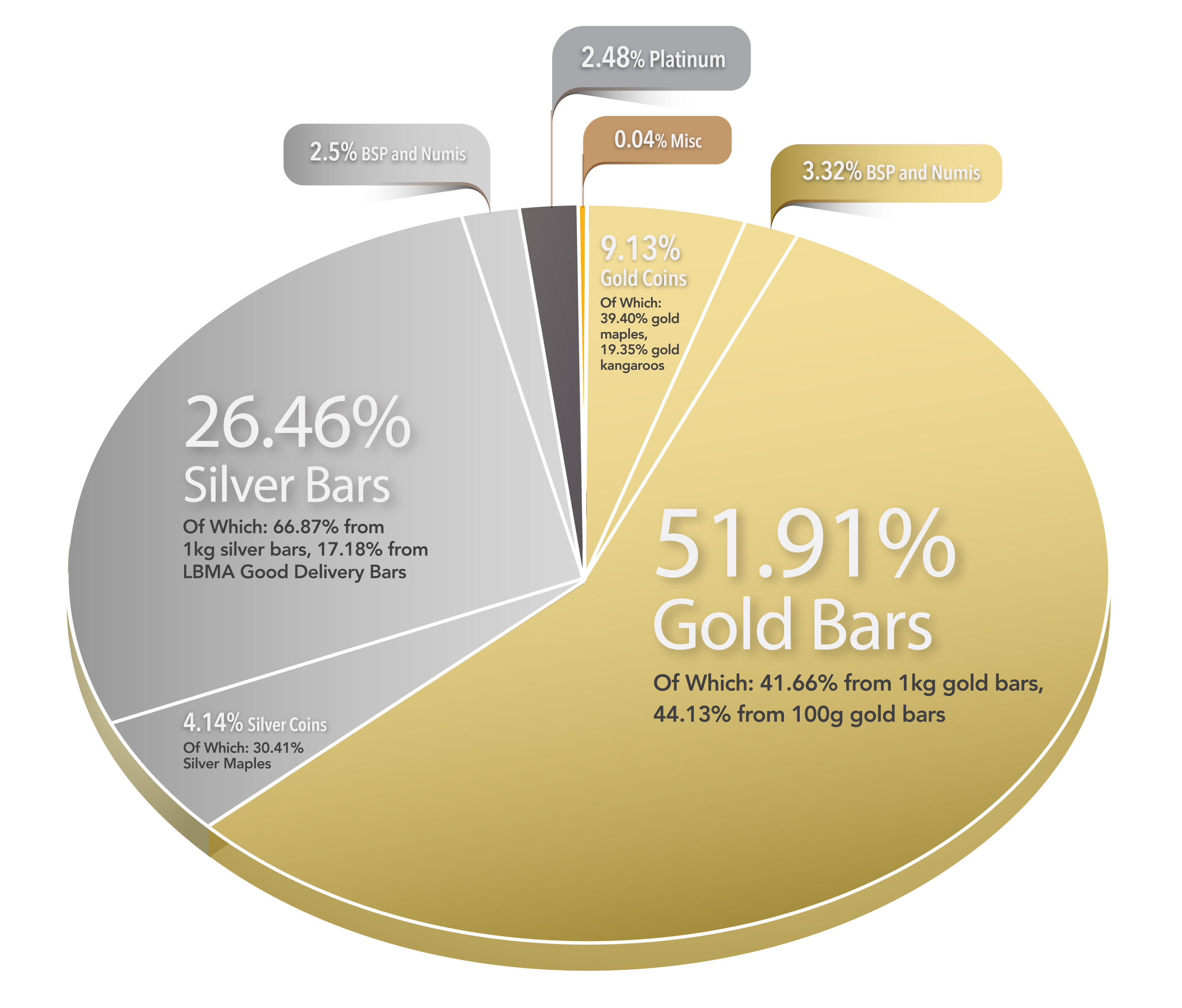 Within the silver bar category,  66.87% of silver bars sold were 1kg silver bars, and another 17.18% were LBMA Good Delivery silver bars. Within silver coins, 
Canadian Silver Maples
were the best seller, representing 30.41% of silver coins sales.
During FY 2021, BullionStar again expanded customer activity strongly, with a total of 34,259 buys orders, which was an increase of 36.5% compared to the 25,105 customer orders of FY 2020.
The average order size in FY 2021 was SGD 13,095.06 and the median order size was SGD 1,466.88. Reinforcing BullionStar's international profile, there were customers from 106 countries represented in FY2021 sales. Since BullionStar was launched in 2012, there have been BullionStar customers from a massive 125 countries of the world.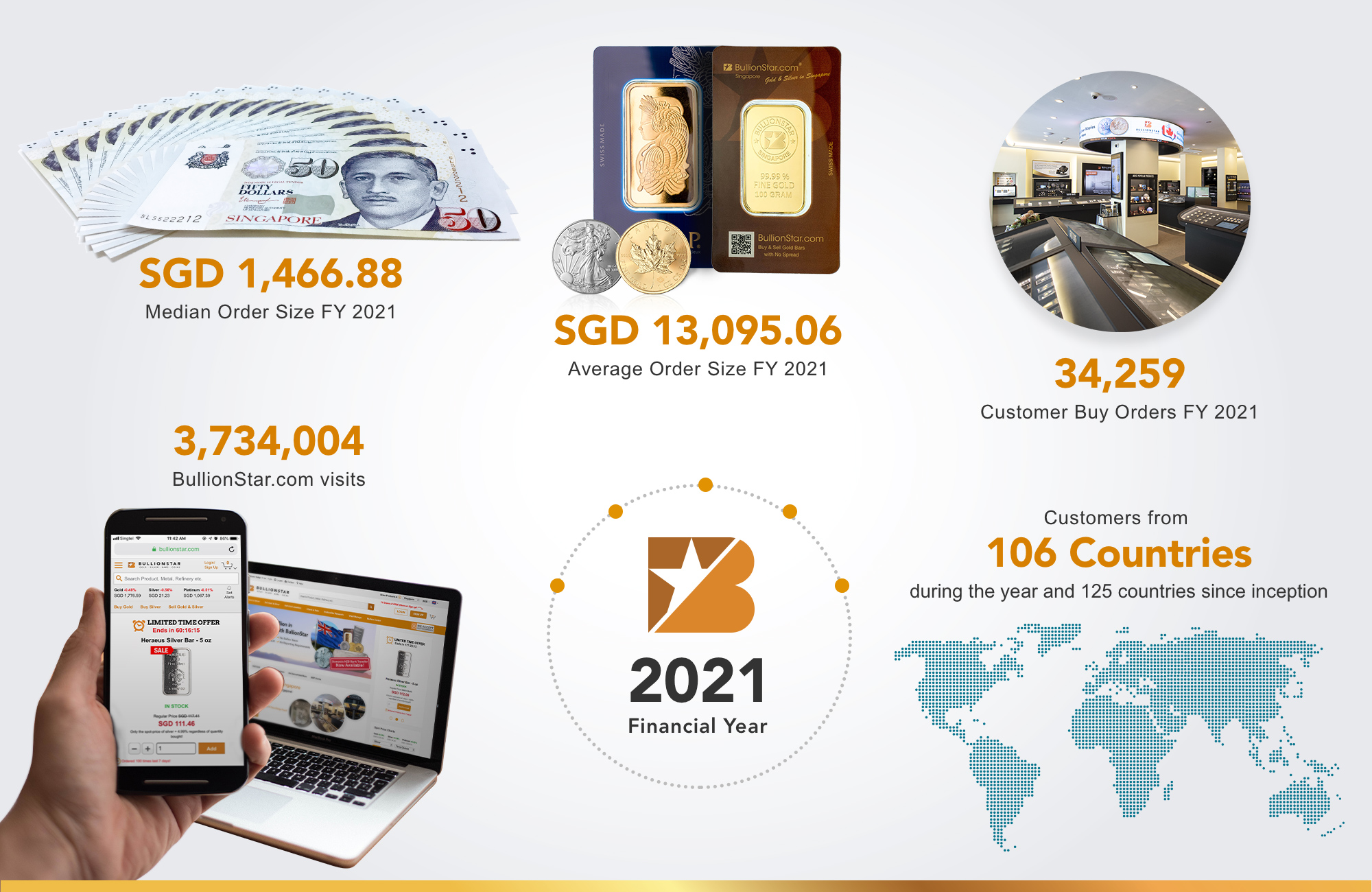 It was also another record breaking year for the BullionStar.com website, which saw 3,734,004 visits, which was a 20.3% increase on the number of website visits in FY2020, and more than double the number of website visits recorded in FY 2019.
Increase in Shipping Capabilities
During FY2021, we have continued to increase BullionStar's shipping capabilities both domestically and internationally, and Bullionstar's shipping capabilities have now fully adapted to the Covid restrictions globally. Shipping fees remain very competitive as BullionStar has absorbed increases in global freight costs rather than passing them on to our customers.
Gold in Times of Crisis – Vietnam Documentary
Another milestone during FY2021 was the production and release of the first of BullionStar's "Gold in Times of Crisis" documentaries, a documentary which focuses on how gold became the money of choice in post-war Vietnam and was essential for a passage to freedom.
This dramatic 15 minute documentary, which can be seen here, was produced in association with Real Vision. This is the first episode in the Gold in Times of Crisis documentary series, so expect further episodes in the future.
Increased Vault Insurance Limit
With the increase in the amount of precious metals being stored for clients in BullionStar's vaults, as well as the increasing number of clients, and the expected increases going forward, BullionStar has, for FY2022, increased the insurance limit for our vaults to SGD 800 million (FY2021: SGD 500 million).