BullionStar Financials FY 2022 – Year in Review
This post reviews BullionStar's financial performance and milestones for the financial year ending 30 June 2022 (FY 2022).
At BullionStar, we have a tradition of sharing our financials transparently. We share key sales data, such as precious metals demand per product and product category along with other notable developments. Previous years financial reviews can be found below:
BullionStar Financials FY 2021 – Year in Review
BullionStar Financials FY 2020 – Year in Review
BullionStar Financials FY 2019 – Year in Review
BullionStar Financials FY 2018 – Year in Review
BullionStar Financials FY 2017 – Year in Review
BullionStar Financials FY 2016 – Year in Review
BullionStar Financials FY 2015 – Year in Review
FY 2022 was another very strong year for BullionStar with sales revenues totalling SGD 391.7 M. While sales revenue in FY2022 was 12.6% lower than in FY 2021, it was still the second highest sales revenue on record.
The spot gold price in US dollars ended fiscal year 2022 within 2% of where it had opened (open of $1774.43 on 1 July 2021 and close of $1805.24 on 30 June 2022).
However, this proximity in prices between the start and end of the fiscal year belied the fact that the international gold price shot up to an all-time-high of $2041.89 on 8 March 2022 on the back of safe haven demand for gold. This was triggered by heightened geo-political and inflationary risk, brought on by both Russia's invasion of Ukraine and the re-ignition of inflationary fears globally.
It was a different case for the spot price of silver in US dollars, which lost nearly 23% over fiscal year 2022, falling from $26.21 on 1 July 2021 to close at a fiscal year low of $20.20 on 30 June 2022. Silver had held up well over most of that period and also rallied into March and April 2022, but the price fell sharply during May and June as the impact of US interest rate rises took hold.
Based on data from the World Gold Council, global retail demand for gold bars and gold coins was very strong over the H2 2021 and H1 2022 period, with investors accumulating gold as an inflation hedge and as wealth protection.
Bullion Mint sales data for 2021 and 2022 also reflected the strong retail investment precious metals demand during FY 2022, for example, the US Mint recorded very strong sales over both calendar year 2021 and 2022, its two strongest years since 2009-2010.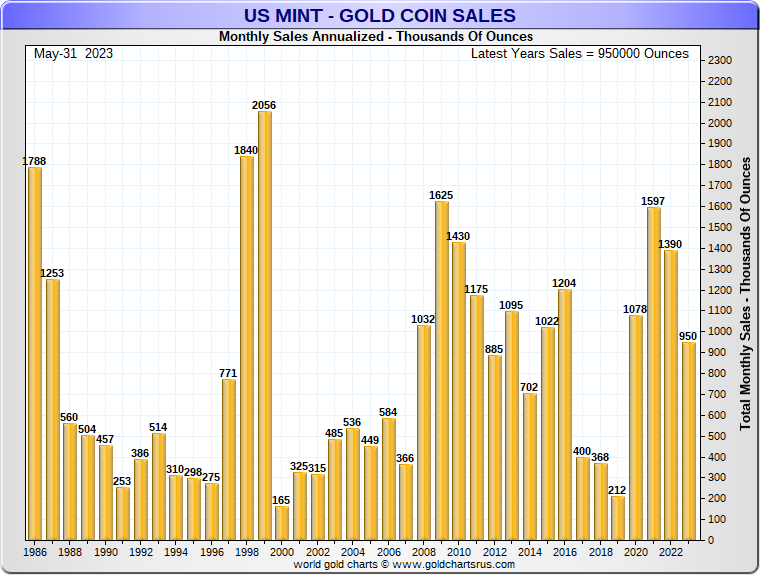 In the central bank gold market, both 2021 and 2022 were stellar years, with 2022 actually being a record year for central bank gold demand.
Gold Price and Silver Price during FY 2022
During FY 2022, the spot gold price, denominated in Singapore dollars, increased by 5.15% from SGD 2,388.7 on 1 July 2021, to SGD 2,511.7 on 30 June 2021.
For the first seven months of this period, the SGD gold price remained in a relatively tight range. The price then broke out higher in February 2022 as US monthly CPI inflation reached 7.9%, the highest monthly CPI reading since January 1982. The price then continued rallying into March 2022 on the back of the Russian invasion into Ukraine.
In tandem, these factors caused the SGD price of gold to spike to a then nearly two year high of SGD 2,785.9 on 8 March 2022, before falling back somewhat over the subsequent 4 months.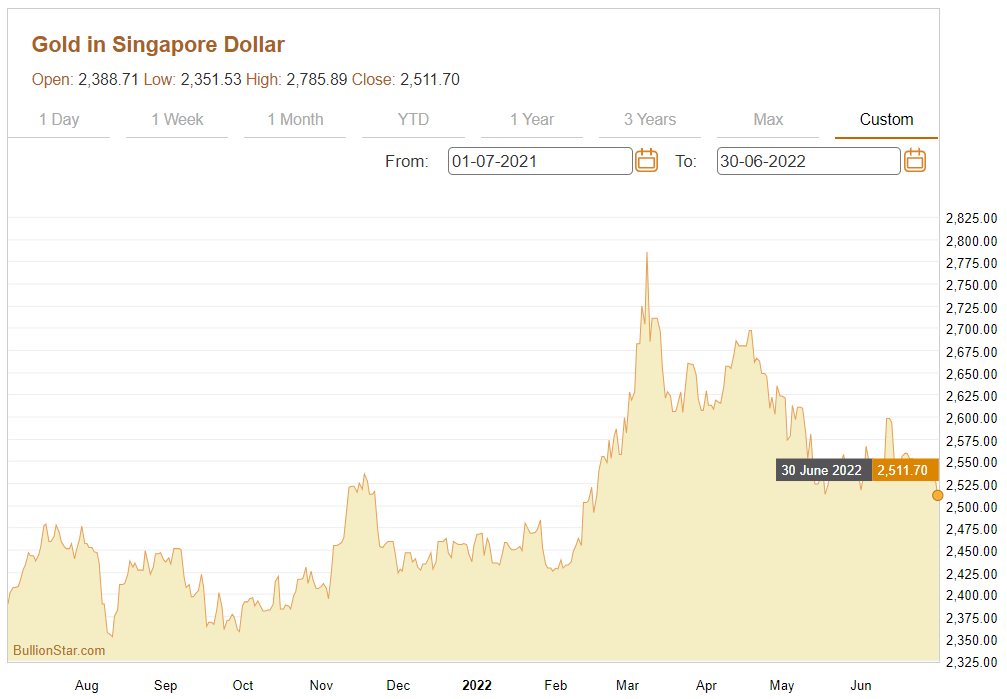 During FY2022, the spot price of silver in Singapore dollars fell by 20%, from SGD 35.28 on 1 July 2021 to SGD 28.1 on 30 June 2022.
In a pattern mirroring the price of silver in US dollars, the SGD silver price remained volatile over the 12 month period, experiencing a number of 15-20% multi-month moves during FY 2022 that created many trading opportunities, however the SGD silver price then dropped noticeably between mid April and end of June 2022 amid headwinds from a strong US dollar and the initiation of the US Fed's  interest rate tightening cycle.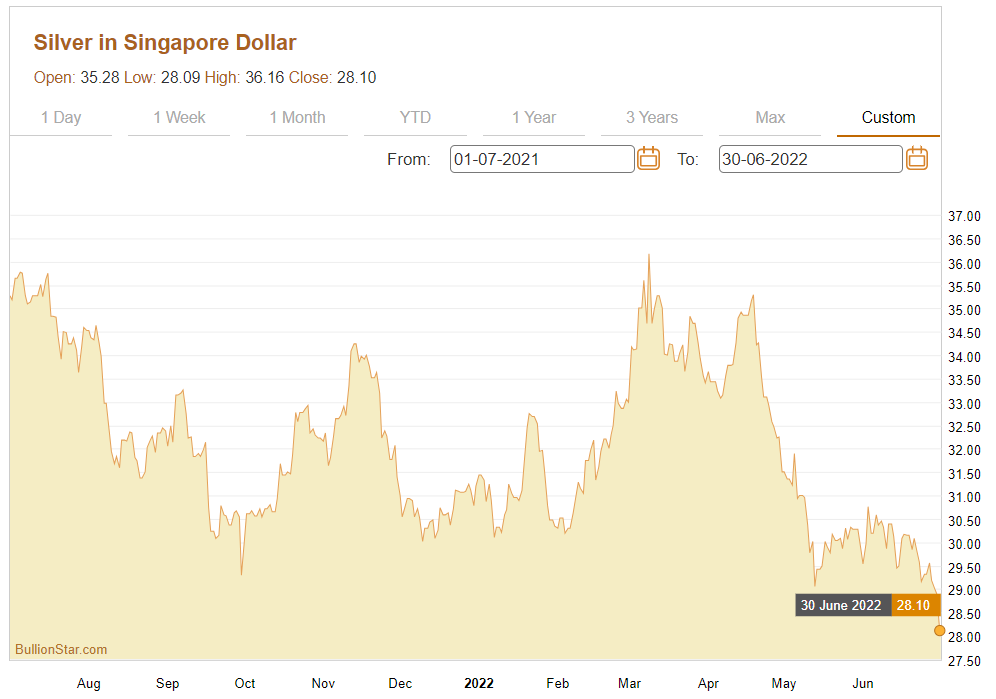 BullionStar Financials FY 2022 – Year in Review – Sales
BullionStar's sales revenues remained very strong in FY 2022, totalling SGD 391.7 M. While this was a 12.6% decrease compared to FY 2021, this was the company's second highest sales revenues on record, and 20.1% higher than in FY 2020.
Sales per Product Category
In FY2022, gold represented 74.29% of sales, and silver represented 24.04% of sales, with the remaining 1.67% comprising mostly platinum sales.
Given that in FY2021, gold had represented 64.37% of sales and silver had represented 33.11%, FY2022 saw a noticeable increase in the proportion of sales attributed to gold, at the expense of the silver category.
Within the overall gold product category, 79.29% of sales in FY2022 represented gold bars, 13.03% represented gold coins, with the remainder attributed to numismatics, gold jewellery, and other products which together comprised 7.68%. This means that 59.9% of all FY 2022 sales were in gold bars, 9.68% in gold coins, and 5.71% in other gold product segments.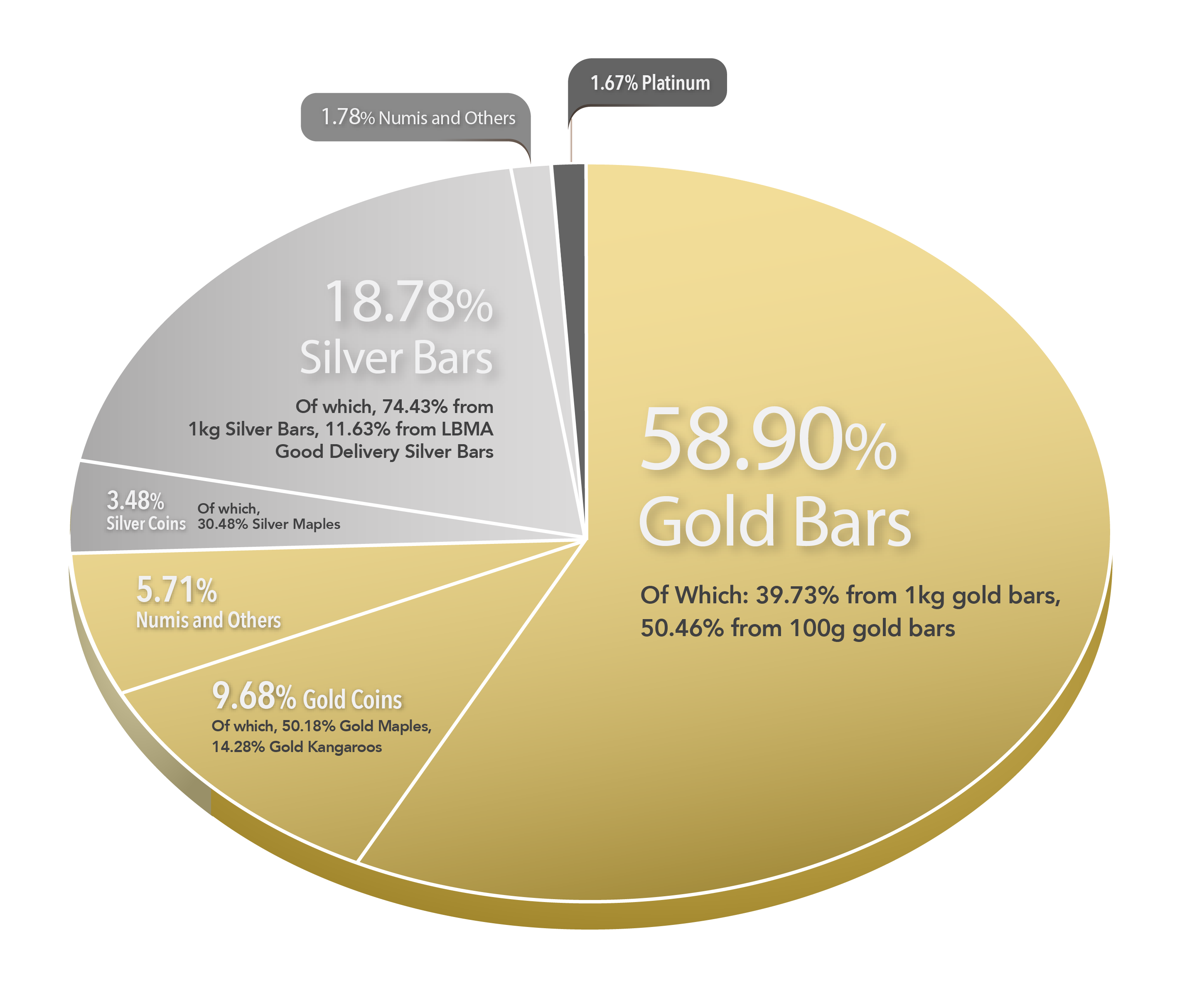 Within the gold bar category, more than 90% of sales comprised the larger investment gold bars, with 39.73% representing 1kg gold bars, and 50.46% representing 100g gold bars. Within the gold coin category, the leading seller was Canadian Gold Maples (50.18% of gold coin sales), followed by Australian Gold Kangaroos (14.28% of gold coin sales.)
Within the silver product category, 78.11% of revenue from silver during FY2022 represented silver bars, 14.48% represented silver coins and rounds, and the remainder, a combined 7.41%, was attributed to numismatics and other products. This means that 18.78% of all FY 2022 sales were in silver bars, 3.48% in silver coins, and 1.78% in other silver product segments.
Within the silver bar category, 74.43% of silver bars sold were 1kg silver bars, while an additional 11.63% were LBMA Good Delivery silver bars. Within the silver coin category, the Royal Canadian Mint's Canadian Silver Maples were the leading seller, representing 30.48% of silver coins sales.
BullionStar recorded 29,496 customer buy orders in FY 2022, compared to 34,259 buy orders in FY 2021. While lower than in FY 2021, this was the second highest number of buy orders on record for a fiscal year, and mirrored the trend seen in total sales revenue. Note that the total number of buy orders during FY 2020 was 25,105.
Average order size in FY 2022 was SGD 13,219.87, slightly higher than the corresponding figure from FY 2021 of SGD 13,095.06. Median order size in FY2022 was SGD 1,357.74, slightly lower than the corresponding figure in FY2021 of SGD 1,466.88.
As one of the world's most global bullion dealers with a strong international profile, there were customers from a staggering 97 countries represented in BullionStar's FY2022 sales. Since BullionStar was launched in 2012, there have been BullionStar customers from 125 countries across the world.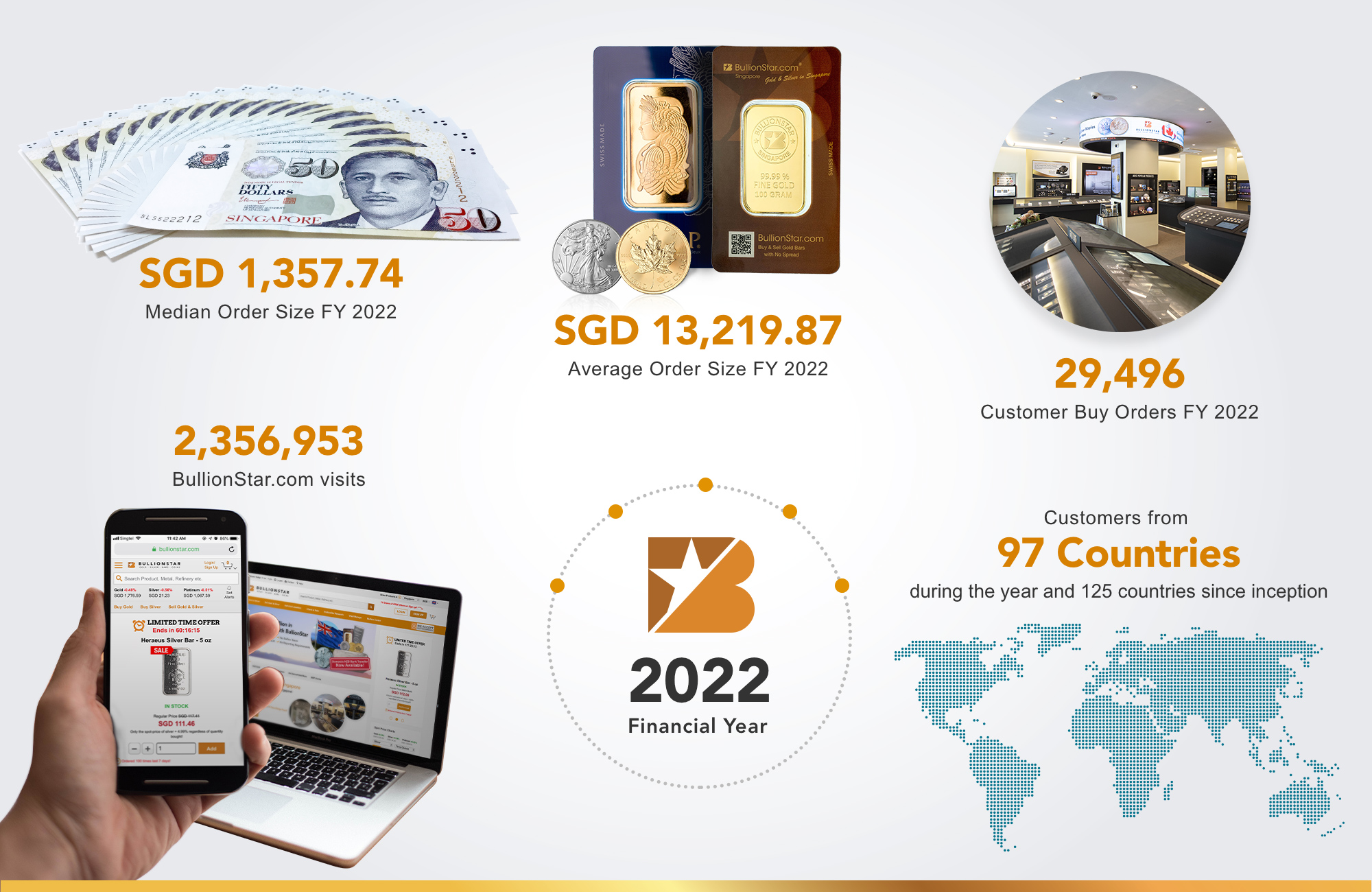 During FY2022, there were 2,356,953 visits to the BullionStar.com website, which was a 36.9% decline on the number of website visits in FY2021.
SGD 2 Billion in Customer Orders
Following FY2022, BullionStar has continued to achieve notable milestones in sales revenue. In September 2022, just 10 years after being established, BullionStar crossed the threshold of SGD 2 billion in cumulative sales orders, with more than 330,000 customer orders fulfilled.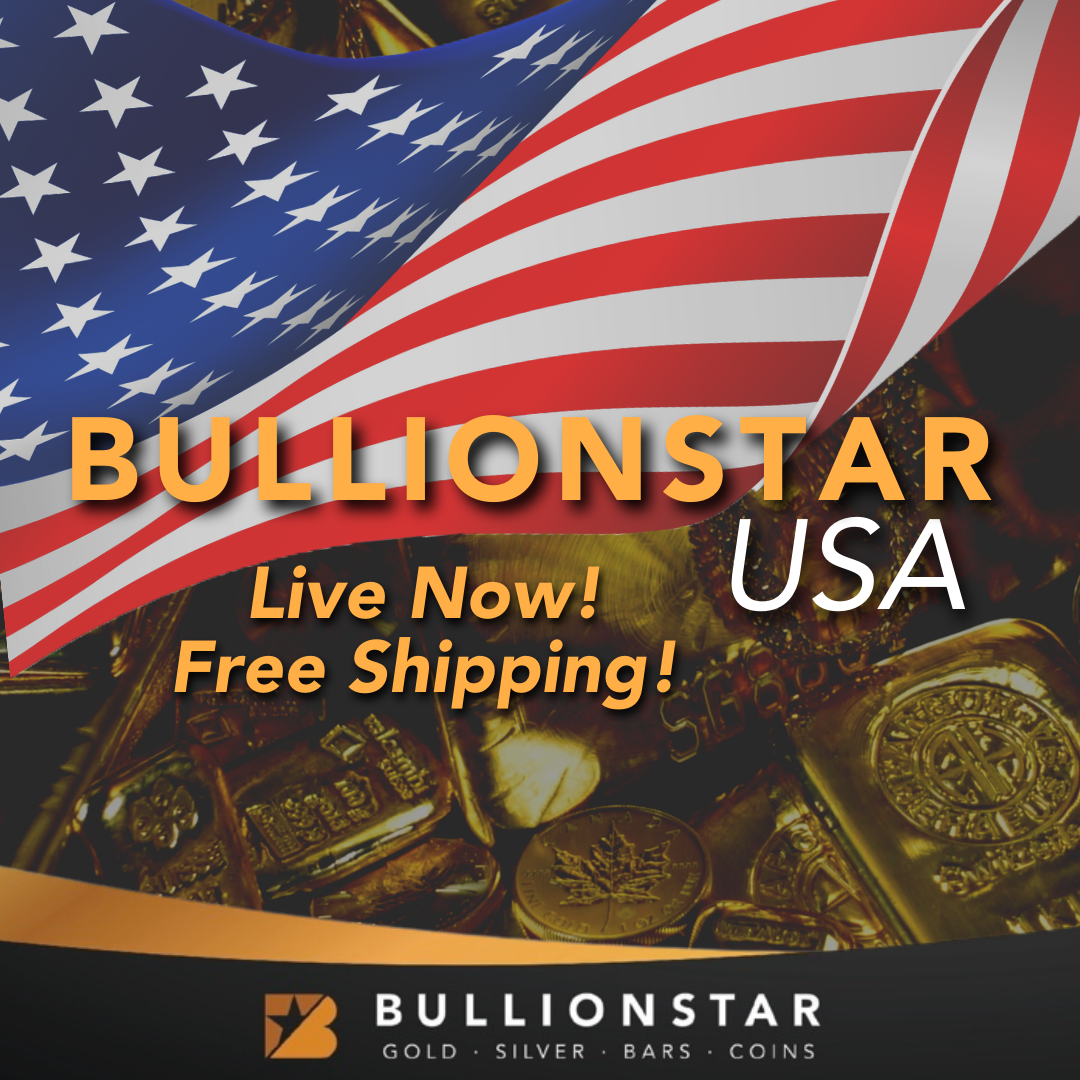 Official Launch in the United States
In January 2023, BullionStar completed another major milestone following our official launch in the US. Complete with a dedicated US website Bullionstar.us, customers can now buy gold and silver bullion for free delivery across the United States, or choose to store their bullion in BullionStar's secure precious metals vault in Dallas, Texas.