BullionStar Launches in the United States
BullionStar is proud to announce that following our US launch, we now offer you the ability to buy gold bullion and buy silver bullion in the United States! At BullionStar.us, you can now buy bullion bars and coins for free delivery across the United States, or for 1-year FREE vault storage in our secure precious metals vault in Texas.
Best Bullion Prices in the United States?
BullionStar US is offering a selection of precious gold and silver investment bars and coins at extremely competitive prices, likely to be the best bullion prices in the United States, for example:

Buy American Gold Eagles at only spot + 6%!
Buy Canadian Gold Maples at only spot + 3.6%!

FREE Shipping & Insurance
Shipping, insurance and handling are completely FREE when you buy from BullionStar.us for all orders above USD 98!
For orders below USD 98, the cost for shipping including insurance is USD 7.99.
All shipments are insured for full replacement value.
As soon as your payment for your ordered precious metals has cleared, we will pack and ship your bullion order to you within 1-2 business days of your payment having cleared. You can track the order status and shipment progress all the way from order placement thru to delivery. All precious metals deliveries are carefully wrapped and packaged and sent to you discreetly, i.e. the return address does not give any indication that the parcel contains valuable content. All items are securely packaged in protective packaging to prevent your precious metals items from shifting during shipping.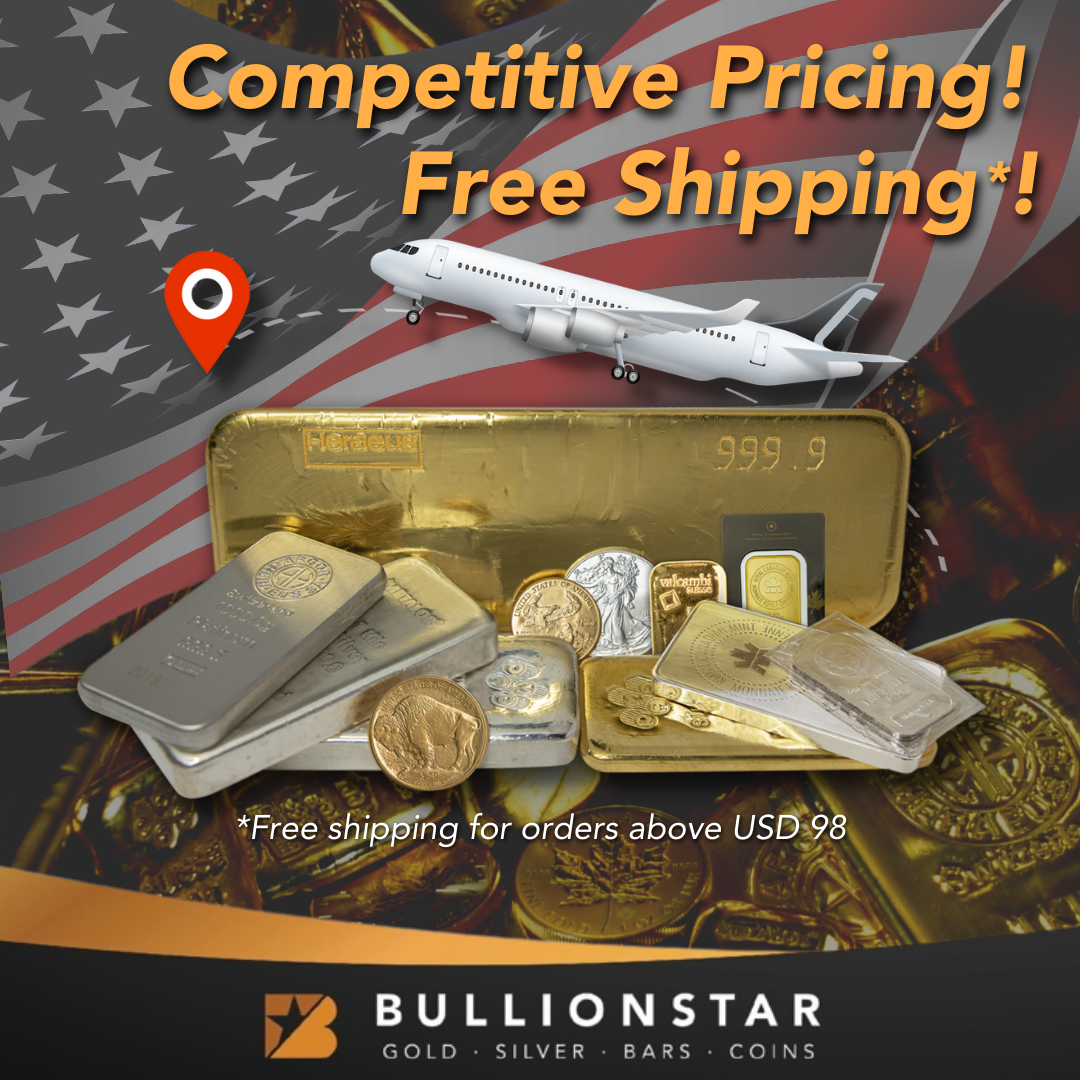 FREE Vault Storage
When you buy physical precious metals bars and coins at BullionStar.us, you can alternatively opt to have your bullion purchases securely stored within BullionStar's secure precious metals vault, located in Dallas, Texas.

The 1st year of BullionStar bullion vault storage in our US vault is absolutely FREE. Thereafter, the bullion storage fees are among the most competitive in the industry with 0.39% p.a. for gold vault storage and 0.49% p.a. for silver and platinum vault storage.
BullionStar provides US bullion storage customers with full insurance of all vault-stored precious metals. You are never liable for any risk or loss or damage to your bullion. Your precious metals are 100% insured, 100% of the time.
When you store precious metals with BullionStar, your precious metals are stored outside the banking system. 
All bullion stored with BullionStar in Texas is fully audited. BullionStar employs 5 different bullion audit methods including a Live Audit Report and third party auditor protocols, to verify the existence and correctness of your stored bullion.
You have full online control of your vaulted bullion 24/7 – Buy, sell or withdraw your precious metals at any time.
Our precious metals vault in Texas is a Class III UL-rated vault with uncompromising surveillance and round-the-clock security monitored in real-time by off-site security specialists, as well as on-site armed police officers.
As a customer of BullionStar US, you can also diversify your bullion storage to store precious metals with us in Singapore and New Zealand. This multi-jurisdictional storage approach lets you store your bullion in up to 3 locations globally, similar to how many central banks diversify their gold storage over a number of countries.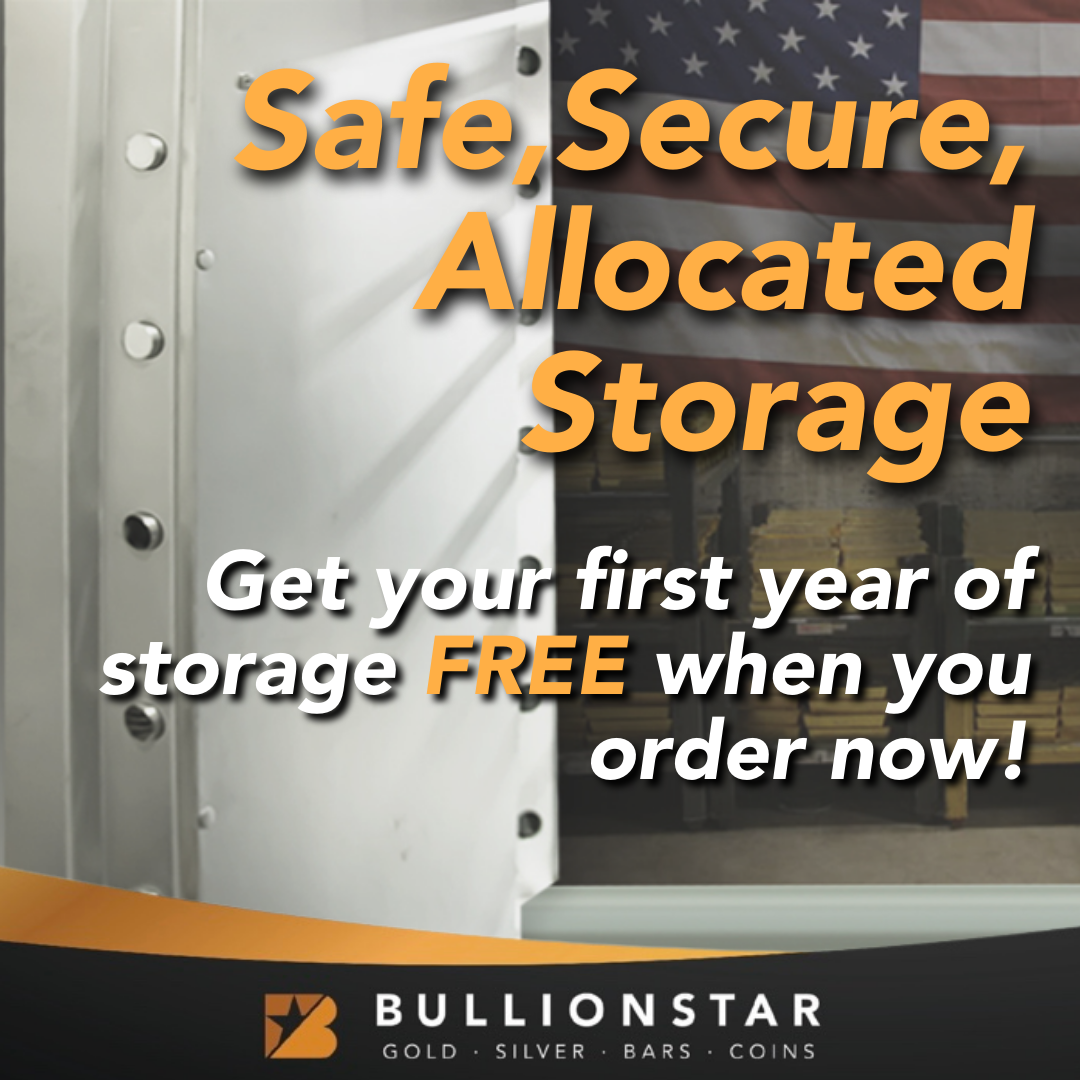 Full Online Control of Your Vaulted Bullion 24/7 – Buy, Sell or Withdraw at Any Time
BullionStar's vault storage service is an end-to-end solution for buying, selling and storing bullion. You have full online control of your vaulted bullion 24/7. With your BullionStar account, you can manage your physical bullion holdings online to e.g. sell your bullion, withdraw your bullion from storage, view photos of your stored bullion, audit your bullion and much more.
Use one and the same BullionStar account for all precious metals products and services, including bullion vault storage. Your BullionStar account can be used for bullion transactions across all precious metals stock and vault locations worldwide.

It's quick and easy to open an online account with BullionStar.
In addition to US dollars, you can also view bullion prices and settle bullion orders in EUR, SGD, GBP, AUD, NZD, JPY and SEK as well as in the cryptocurrencies BTC, ETH, BCH and LTH. Payment options include domestic USD bank transfer within the US, ACH transfers, international USD and foreign currency bank transfer, online credit and debit card, and major cryptocurrencies.
Tax Free Bullion – No Sales Tax
In most of the 50 US States, the most common bullion products are exempted from sales tax. Where this is the case, this means that there are no sales taxes on any bullion products sold and shipped by BullionStar to US customers in these States. Check your State's bullion sales tax rules here.
Gold and Silver Bullion Products & Bullion Pricing
BullionStar.us offers you the ability to buy investment gold, silver and platinum bars and coins from the world's most renowned precious metals mints and refineries. We strive to offer the lowest prices on the market, lower than our main US competitors, and at low premiums above the spot gold price and spot silver price.
Buy gold bars in the US from a selection of the world's most prestigious refineries including gold bars fabricated by the famed Swiss refineries of PAMP, Valcambi and Argor-Heraeus.
Buy gold coins such as Gold Eagles and Gold Buffalos minted by the legendary US Mint, Gold Maples from the Royal Canadian Mint, as well as Gold Britannias, Gold Philharmonics and Gold Kangaroos.    
For silver bullion savers and investors, with BullionStar US you can buy silver bars from leading US and international refiners, as well as buy silver coins such as Silver Maples, Silver Britannias, Silver Kangaroos, Silver Philharmonics and many more.
BullionStar.us also carries a selection of investment platinum bars and coins.
Check out our US bullion prices on BullionStar.us now!
The BullionStar.us website also features live gold prices and live silver prices, allowing you in real time to check the current gold price and current silver price.
For BullionStar's US precious metals inventory, BullionStar only ships domestically within the United States. With BullionStar, you can however buy gold & silver bullion for storage, shipping and personal pick-up in Singapore and New Zealand as well. For international shipping, please choose Singapore as your stock location.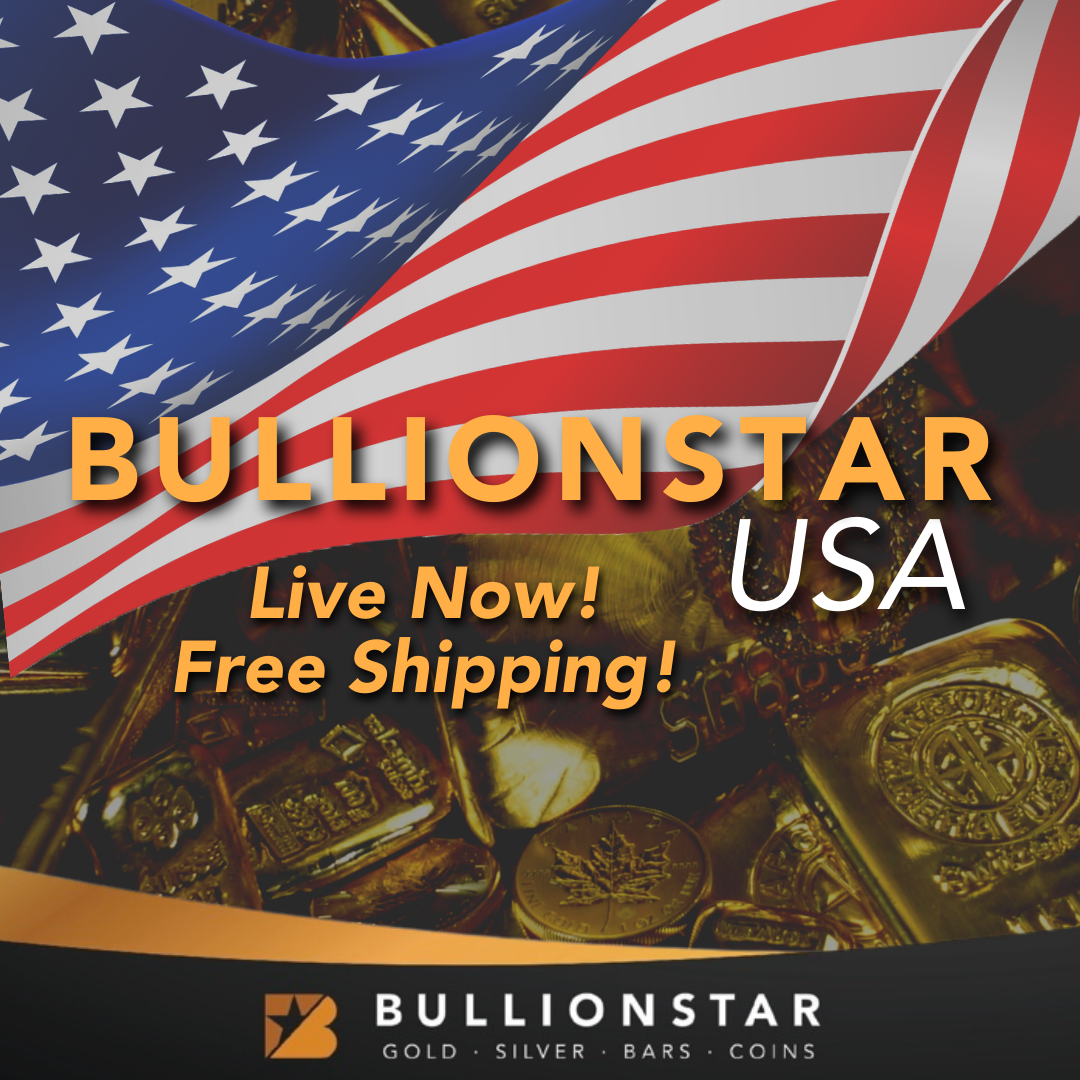 Freedom and Independence
Since our foundation over a decade ago, we have made it our mission at BullionStar to give every person across the world the ability to save in gold and silver either in their possession or securely stored in their name.
We share the founding values of the United States being freedom, limited government, and individual responsibility, and the American ideals of liberty and independence. This is what we stand for.
We believe that physical gold and silver are real money, and that they are forms of wealth preservation that can provide economic freedom. We believe in free and transparent markets, and since our founding, we have been advocates of real price discovery in gold and silver markets.
Within the US, we have chosen to operate, vault and distribute our products out of the State of Texas. As well as symbolizing independence, liberty, patriotism, and the American way, Texas offers strong protection of individual rights and favorable tax policies related to the sale and storage of bullion. So operating from Texas was a natural choice for us.
Texas also scores very highly on the Sound Money Index, an index which measures each US state as regards sound money legislation and the 'friendliness' of each state's monetary policies towards gold and silver.
Operating out of Texas, we are confident that we will be able to provide strong security, privacy and property rights to our US customers whether your bullion is shipped directly to you in the United States, or securely stored in the Texas vault.
Conclusion: FREE Shipping, FREE Vault Storage and Competitive Bullion Pricing
Since BullionStar's foundation, our vision has been to make precious metals accessible, convenient, and available at great prices to everyone all over the world.

With the launch of BullionStar US, we are making it easy for US residents to buy precious metals bars and coins to competitive prices with FREE shipping or 1-year FREE vault storage in BullionStar's precious metals vault in Texas. 
We are a bullion dealer of the people, for the people. Over the years, we have fulfilled over $2 billion worth of gold and silver bullion orders, yet, each and every order is prepared with great pride and care for the satisfaction of each customer.
As the money systems crumbles under debt, inflation and irresponsible governance, our mission at BullionStar is to return Gold & Silver to its rightful place as money.