How can we help? Ask a question or describe a problem you're having.
Search
Gold, Silver & Platinum Bars and Coins
BullionStar offers a wide selection of Bullion products to choose from. Many of our products enjoy Tax Free status in most states. See here for a more details. Products listed as "in stock" are available for immediate release and shipment, or storage with BullionStar as your secure storage provider.
Gold Bars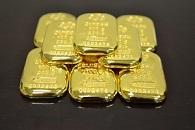 BullionStar offers brand new gold bars from well-renowned LBMA certified producers. The gold bar manufacturers BullionStar works with include PAMP Suisse, Heraeus, Argor-Heraeus and Metalor.
PAMP Suisse is one of the world's most prestigious bullion brands and PAMP products are highly sought by investors due to their high quality and attractive designs. BullionStar is proud to offer an extensive range of PAMP bullion products.
BullionStar also works extensively with Heraeus, a German mint and refinery renowned for having been in the business over 160 years. Heraeus produces gold bars from 1 gram up to 1 kilogram weights.
BullionStar's most popular gold bar is the BullionStar Gold Bar with No Spread - 100 g. The BullionStar Gold Bar is unique in that it can be bought and sold without any spread between the buy and sell price. The BullionStar 100 gram Gold Bar is refined by the renowned Swiss refinery, Argor-Heraeus which is now fully owned by Heraeus of Germany.
Silver Bars
BullionStar offers Silver Bars in sizes ranging from 31.1 gram (1 troy oz) up to 31.1 kg (1000 troy oz). The BullionStar range of silver bars is extensive and includes LBMA certified brands such as Heraeus of Germany, PAMP Suisse, the Royal Canadian Mint, Perth Mint, Johnson Matthey, Metalor of Switzerland and Nadir of Istanbul in Turkey.
For larger investments in silver, BullionStar competitively priced silver bars in sizes of 1 kilogram, 100 ozs, 5 kilogram, 15 kilogram and 1000 ozs.
BullionStar's most popular silver bar is the BullionStar Silver Bar with No Spread - 1 kg. The BullionStar Silver Bar is unique in that it can be bought and sold without any spread between the buy and sell price whatsoever. The BullionStar 1 kg Silver Bar is refined by renowned LBMA refineries such as the German refinery, Heraeus.
Coins
For the astute bullion investor, it might be worthwhile considering gold bullion coins in addition gold bullion bars. Gold coins have some of the following advantages vis-a-vis gold bars.
- Gold coins are more suitable in a scenario where precious metals return as money or as a means of payment.
- Small units such as 1 oz gold coins carry higher premiums when physical gold product shortages appear.
- Gold coins are legal tender in their country of issue and can be sold or bartered individually.
BullionStar carries a wide assortment of different gold coins in different sizes from the world's major mints such as the Royal Canadian Mint, the Austrian Mint, the US Mint, the Royal Mint, Australia's Perth Mint and the Chinese State Mint. All of these mints are either owned or or have a close connection with their respective governments, therefore the authenticity of the gold coin issued by these Mints is guaranteed.
Silver Coins
Silver bullion coins are a popular product category for investments in physical silver. Many customers choose to buy silver coins in units of 500 silver coins, commonly referred to as a 'Monster Box'. A monster box is an appealing alternative to silver bars even for larger investors. Silver bullion coins are also a popular gift and due to the cheaper price of silver compared to gold where it is possible to hold a substantial amount of silver for a relatively low cost outlay.
BullionStar carries all popular brands of silver coins, such as Royal Canadian Mint Silver Maples and US Mint Silver Eagles.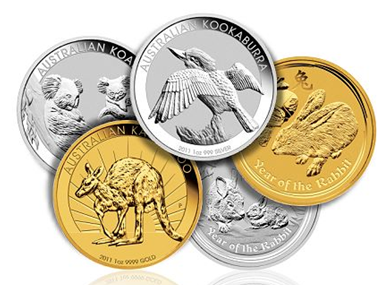 Platinum Bars and Platinum Coins
Many of the world's major mints and refineries also produce investment grade platinum bars and platinum coins in addition to investment grade gold and silver bars and coins. While platinum bars and coins do not have as long a history as gold or silver as a monetary asset, platinum is still a precious metal and in more recent times has become established as an investment asset.
BullionStar offers an extensive range of investment grade platinum products, with platinum coins from mints the Austrian Mint, Royal Canadian Mint (RCM), US Mint, Royal Mint and Perth Mint, and platinum bars from the refineries Heraeus, Valcambi and Argor-Heraeus which are all refineries on the London Platinum and Palladium Market (LPPM) Good Delivery list for platinum.
Platinum coins offered by BullionStar include the the Royal Canadian Mint Platinum Maple Leaf, the US Mint Platinum Eagle, the Austrian Mint Platinum Philharmonic, UK Platinum Britannia and the Platinum Platypus and Platinum Koala coins from the Perth Mint. All of these coins are available in 1 oz coin weights. Platinum bars stocked by BullionStar range from 1 kilogram weight, through 500 grams and 100 grams to a 1 oz weight.
Related Topics:
Buying Gold & Silver from BullionStar - Detailed Guide
BullionStar Bars - No Spread Bullion